---
Author Bio
---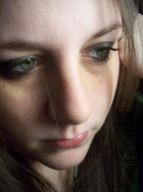 Max grew up just outside of New York City, spending most of her formative years outdoors creating wild ghost hunts with neighborhood kids, setting booby-traps to capture unwitting family members, and building clubhouses on top of ten-foot walls. Max wrote her first story at the age of twelve and titled it Circles of Friendship. Through the years, Max has written several short-stories and poems, all of which met the wrath of the "Not Good Enough" monster and ended in fiery demise.

Max regained her confidence when she began writing scholarly articles and research theses on her first trip through graduate school. It took several years for her to break the habit of the formal writing that marred her creativity. An additional Master of Fine Arts degree in Creative Writing was Max's biggest support in this. Max writes primarily sci-fi/fantasy, paranormal romance, and Young Adult stories.


Education
Manhattanville College, Master of Fine Arts - Creative Writing (2013)
Iona College, Master of Arts - Psychology (2007)
Manhattanville College, Bachelor of Arts - Psychology/Studio Art & Photography (2004)
---
---
Appearances

---
Glyph Graphic Novel Script Reading

June 24, 2011: First reading of the graphic novel script Max wrote as a media tie-in to

Glyph

. It was a success! Next time she'll remember to enter these things as Max. *grin*

Beginnings of Genre Fiction


Scholastic Writing Awards

January 11, 2014: Max adjudicates sci-fi/fantasy stories written by young writers at a Scholastic Writing Awards event.


Author Event and Book Signing

October 25, 2014: Cuppa Pulp hosts Max for a book signing event and author panel.
---
Interviews and Transcripts

---
---
Transcript of interview with Donna Miele of Cuppa Pulp Booksellers:
We caught up with author Max Ellendale and heard about her work, her plans for leading the upcoming
Genre Writers' Workshop on March 23
, and her habit of acquiring local accents while traveling.
Check out Max's website at
www.maxellendale.com
and her blog at
maxellendale.wordpress.com
.
So, Max, what have you written and what's it about?
I have a few projects that I'm working on at the moment but the most prominent is my Legacy Series, starting with book one titled,
Glyph
. This particular piece follows protagonist, Shawnee, as she navigates through the denial that's left her blind to the world around her. Shawnee's a doctor who finds herself working for a corrupt organization that experiments on werewolves and other werespecies.
Glyph
is categorized as a paranormal romance. So, if you like werewolves, quirky characters, and survivor tales, this might tickle your fancy! Book 2 in the series is complete as well and in the hands of my lovely editor. Glyph's print release is due any moment! I'm really excited about that. eBooks are lovely but there's nothing as satisfying as holding a book in your hands.
Hey, I know a guy writing a story JUST like that! Except the heroine is a snake instead of a wolf, and she has this boyfriend who is a scientist, and he doesn't know, and when he finds out he tries to trap her in snake form and sell her to a special zoo… but the author is stuck. How will your workshop help him?
This workshop in particular is geared toward providing writers (both new and more experienced) with tools that can help "unstick" their work. We'll be talking about plot turns and sub-plots that often help propel a story forward while keeping reader interest. We'll also talk about character development. Plot-driven novels are great, but we cannot forget about depth of character. Character-driven stories are equally important! (We'll talk about that, too!) I'm big on handouts and providing writers with something to take away with them!
What is a day in your life like? I can't imagine having the time AND discipline to make fantasies into stories and books. Do you have a personal assistant and a private spa with a masseuse and a chef?
*blinks* wait… what? Spa? Assistant? Authors are supposed to have these things?! Dammit! Sigh… I knew I was missing something. All kidding aside, right now I have a day job (often referred to by emerging writers as the EDJ, or evil-day-job). So Monday through Friday, I'm a 9 to 5er… and then a 6 to midnight-er. Writing being the latter and weekends. A typical weekday for me is waking up way too early and spending at least fifteen minutes talking myself into getting out of bed to go to work. After that, I work at a counseling program for seriously mentally ill adults. I have a prior degree and clinical counseling license, though I recently received my MFA in Creative Writing and I'm working on making a big career change. So… I work at the program all day, then come home to my dogs. I spend some time with them and make dinner then it's right into my home office for writing time. I'm not always as productive as I like. As I don't yet have an agent, I'm my own publicist, director of marketing and promotions, financial manager, blogger, accountant, bookkeeper, etc. etc. I also do individual manuscript consultation and mentoring. I have several private clients that I currently work with and I've loved it so far! I really love helping writers find their voice and their story. The weekends are a bit different. I'm a night owl, so most of my work is done after sunset. Weekends are spent grumbling about daylight then working well into the early morning hours. How do I have the energy for all of this? Well… I don't really, but coffee helps. Lots and lots of coffee. Coffee and writing are soulmates. I've come to a point where I've accepted that until I make the great leap and fully change my career, I'm going to have to manage my time well. And struggle with the emotional burden of my choices at times. All of it though makes for good stories and poetry. In the end, I know it will be worth it.
You have a full-time job, you're writing a series of books, and you also have other projects? Wow. What other projects?
Of course! Along with
Glyph
and it's sequel, I'm working on book 3 in the series. Right now I've got at least 5 books planned for the Legacy Series. I'm not sure how far I will take it. Only the characters can tell me that, but they're being rather shy at the moment. I've also completed a Young Adult fantasy manuscript which I'm trying to get an agent to represent. I started the query process a little over a month ago and I'm hoping for some positive responses! That story follows an orphaned protagonist named Jessica who's just learning the consequences of dabbling in not-so-good magic. It's a softer fantasy rooted in practical means. There won't be any wand waving or broomstick-ing in that story! In other projects, I'm working on another Young Adult manuscript that I like to call an "apocalypse tomorrow" kind of story. It's not really sci-fi or dystopian. I'm not sure what genre it is just yet but I'm sure I'll know by the end of the first draft! That's all the work I'm doing on the genre fiction front. In the literary world, I'm working on a poetry chapbook. It's nearly complete but I'm still very nervous about my literary stuff, especially nonfiction. It makes me panic a bit!
What do you like to do besides write? Do you have any hobbies?
I like to travel. I spent a significant period of time in Australia. Actually, large portions of
Glyph
were written while I was staying in Melbourne. And, yes, I did return to America with an accent. It took several months for me to ditch the high rising terminal at the end of my sentences. Some phrases have become permanent though! Other portions were written while in Los Angeles on a long layover, and I have Boston to thank for bits of chapter two. My next destination is Ireland. Other than travel, I play guitar (not very well), draw and paint (also not very well). Photography is a passion of mine, too. And of course, reading. Reading is just as important to me as writing.
---
Transcript of interview with Ryan Brock of lilQui
RYAN
- Good literature is an escape. Whenever I crack open a book and find myself wandering through a strange and fantastic landscape, hand in hand with unusual characters and great conversation, the pages soak me in like so much spilled water on the coffee table. Our fantasies tell us who we are, and it's no surprise that those created by Max Ellendale, creative writer and therapist, do more than offer respite from the pains of real life. Ellendale's stories hold a mirror up to the human condition and invite the reader to come along for the ride as her characters find the strength to face their challenges head-on.
"I started writing my first story when I was in sixth or seventh grade, and I guess it was just my experiences with people that inspired me. I had some tough experiences with some of my friends growing up. One girl in particular had some issues going on in her family, and it affected me as a kid, because I really didn't understand it. So I used the creative medium of writing to work through those feelings. I wrote a story about two best friends, and the protagonist found out that her best friend had some trouble going on, and there was some domestic violence in the family. I didn't understand that because it wasn't something I was exposed to, so I processed those feelings through writing."
Ellendale's love for literature stayed with her as she grew, and it was her deep desire to understand the human experience that led her to examine her world not just through the eyes of a writer, but of a therapist, as well. She studied psychology in college and went on to get her master's, and she's now turning her attention back to the world of books.
"The arts have always been appealing to me, and I studied psychology because everyone told me that there's no money in the arts. I was told that I couldn't make a living as a writer, so I'd have to choose a career, so I decided to study the human mind. To me, it's all about understanding the human experience, whether I'm writing a book or talking with a client."
I'm drawn in by Ellendale's unique perspective on life as a human being. As she speaks about her passion for storytelling and the care and trust she shares with her clients, it becomes clear that there isn't a lot of separation between the two endeavors in her mind, and that makes sense. Exploring an individual's life story, helping them to make sense of their past and their present and the relationships that define them, is really no different from the art of creating characters and telling their stories, is it?
"If I've taken anything away from my experiences as a psychologist and a mental health counselor, it's that sometimes, when people experience horrible things, they have a difficult time integrating themselves back into the world. That will be a theme that runs through some of my books, with a protagonist who is troubled, who is trying to figure out where to go from here, and how to heal from this. Maybe it's through werewolves, or vampires, or witches, or goblins, or fairies. It doesn't matter. It's just how they are able to navigate through their world and live a satisfying, meaningful existence. And that's very true to real life."
And her desire to hear and tell stories isn't held just to the clients she meets in a therapy session. She finds characters worth exploring everywhere she goes.
"I've been known to visit a traveling carnival, walk up to one of the carnival workers and say, 'Tell me your story.' The first time I did that, my sister was with me and she was just like, 'What are you doing?' And I just said that I had a feeling that this was a person who had something they wanted to say. So my sister just wandered off, and she was thinking that I was losing it, but I listened to that carnival worker. She told me her story, about how she ended up in a traveling carnival. People have stories to tell. You just have to ask the right questions. There are characters in this world that are worth capturing, even if it's in a snapshot."
Mark Twain once said that "[o]nly one expert…is qualified to examine the souls and the life of a people and make a valuable report - the native novelist." He went on to describe the ways in which someone from a particular part of the world, dealing with particular kinds of people, could impart far more truth in their novels than any census worker or sociologist. Of course, he was referring to novels like The Adventures of Huckleberry Finn, stories that effortlessly recreated (and satirized) the experience of living, in this case, in America's South before the Civil War. He wasn't necessarily talking about science fiction or paranormal romance.
But if there is any truth in what Twain said, then we can find proof positive in the work of Max Ellendale. She has dedicated her life to understanding why we do the things we do, why we feel what we feel, and how we make through life. Her stories aren't just an escape from a reality, but a reflection of it. The trials of her characters remind us that we aren't alone in our struggles.
Because really, when all is said and done, her characters are us.
———
Max Ellendale is working on a number of projects, including an Urban Fantasy/Paranormal Romance series and a Young Adult novel called "Witch Way." Connect with her on Facebook and Twitter, and stop by her blog to keep current with her writing career.